Fostering an atmosphere of diversity and inclusion within the workplace is a common concern for modern businesses. Low levels can cause unhealthy tensions between employees and employers and a loss of team productivity. To mitigate the consequences of mismanaging the cultural diversity of your workplace, try incorporating diversity activities as part of your next diversity and inclusion training session. These engaging and insightful activities can be an effective way to start the conversation on diversity and inclusion within your work environment. Remember to conduct these activities in an atmosphere of trust and safety and leave enough time for discussion and application at the end of each activity. Try one of the diversity activities below and let us know the impact on your work departments!
1. Five Moments
Five Moments allows employees to share their five most important moments that helped shape who they are today. Give each participant a piece of paper and time to write down their moments. Next, go around the room and have each person share two or three moments that they are most comfortable with. It might be helpful for the activity facilitator (you!) to share their events first to foster a welcoming environment. Focus your discussion on how the major events in life are universal and are not an indicator of people's differences.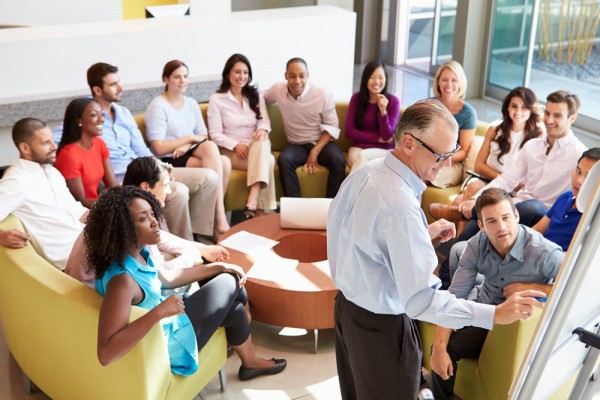 2. Walk Together, Walk Apart
Similar to the Five Moments activity, this diversity and inclusion activity shows how even when differences cause people to separate, similarities can bring them back together just as equally, if not more. Start by asking for two volunteers from your group and have them stand face-to-face. Then, call out things from the different dimensions of diversity. For example, hair color, gender, hometown, functional group, title, experience, etc. With each difference, the volunteers should take a step backward and with each similarity, they should take a step forward. End with a discussion about how differences aren't as strong as the similarities uniting people.
Talking about diversity and inclusion can be an intimidating experience for your employees. Starting the discussion with an activity warms participants up to the topic and allows for a more welcoming learning space. Managing the cultural diversity in your workplace is a critical step toward success in the modern business. The barriers and stigmas surrounding differences between people can sometimes impede the relationships of your employees. But taking active steps to supporting diversity and inclusion can help ease these relationships and point out the commonalities present in every work group. At K Parks Consulting, our difference makers can help you facilitate diversity activities like these. Simply request a discovery session with KPC to discuss your unique goals and learn how our customized curriculum will transform your organization.


Follow KPC on Twitter at @kparksinc and on Facebook at KPC.  Connect with the author, Kizzy Dominguez on LinkedIn.